Much like every domestic cup competition across Europe, the Europa League seems to have lost its shine in recent years. Stalking in the shadow of its dominant brother, watching on as giants of the game like Barcelona, Liverpool and Juventus battle it out for 'A Proper Trophy', whilst simultaneously welcoming the cheap offcuts that aren't quite poor enough to relieve themselves of continental engagements for the second half of the season, it's not too surprising that the once proud UEFA Cup has latterly become the runt of a very small litter. After all, how many people are bunking off work early to race home and catch Trabzonspor vs Getafe?
The introduction in of a place in the Champions League for the winners from the 2014/15 season has at least dangled a carrot for those clubs who were previously unmoved by the prospect of actually winning a trophy, but even this added incentive has managed to further devalue a competition that made a habit of producing scintillating finals at the turn of the 21st century.
Since the rebranding from UEFA Cup to UEFA Europa League, nine of the twenty finalists have dropped down into the competition from the Champions League, with only two of those finals being contested by sides that had worked their way through the much-maligned Europa League group stage. It feels, to many, that the romance is dead.
Cast your minds back, then, to the hazy mists of 2010. Fabio Capello was preparing to lead England to World Cup embarrassment in South Africa, Sepp Blatter's reign of terror as head of FIFA continued unabated, and the world drew it's breath as the inaugural UEFA Europa League final kicked off in Hamburg, between those continental giants: Atletico Madrid and…Fulham?!
This week's guest takes us back to his most formative of experiences, at the frontline of the biggest night in Fulham's history. Geoff Pruce is a fourth generation Fulham fan who's been visiting Craven Cottage since 1996. He's been even more of a regular attendee since joining the Club's media department in January 2012, and now holds the position of Web Content Manager. Back in 2010 as a fresh-faced graduate, Geoff made the trip to Hamburg full of hope, and just a little expectation…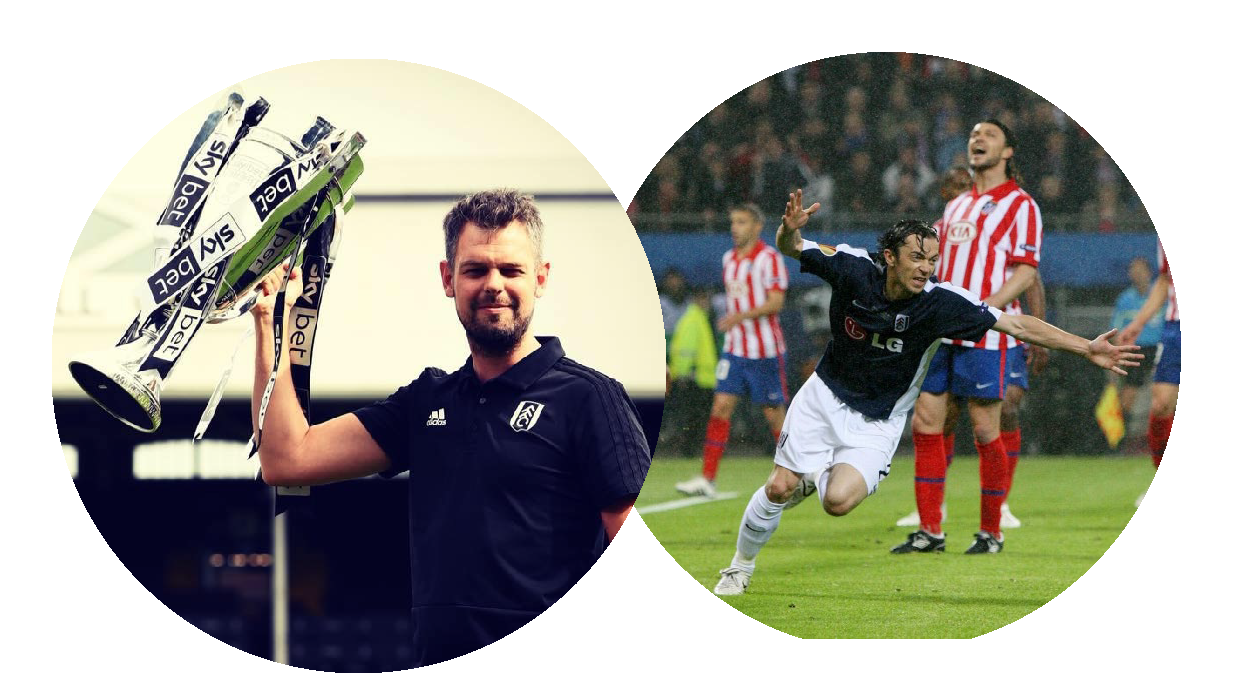 Atletico Madrid 2-1 Fulham
Europa League Final
12th May 2010
"
"You don't know how lucky you've had it supporting Fulham."
That was all I heard from my Dad when I was a kid watching football at Craven Cottage. He was right, of course. Within my first five years of supporting Fulham, I'd taken in three promotions. The first of those – in 1996/97 – was the club's first decent campaign in the better part of a decade, and the first time we'd climbed the football pyramid since 1982.
My father, in stark contrast to myself, had lived through the Whites' darkest times; 91st in the fourth tier and a potential merger with QPR to become Fulham Park Rangers, to name but two. All his trips to the likes of Mansfield and Cambridge meant that when we reached the Premier League in 2001, the novelty of facing the Manchester Uniteds and Liverpools of the world was not lost on him.
By this point I was still only 13, so the vast majority of my memories supporting Fulham are from the top flight. I was used to seeing us play these world class teams every week. What I wasn't used to, was taking on Europe's elite.
(As wonderful as our famous Intertoto Cup triumph was, I'm of course talking about the run to the 2009/10 Europa League Final).
Fulham lost four of our 19 matches in Europe that season. I missed out on the trips to Perm, Rome and Turin, but made it to the Final.
Every round I mentally prepared myself for Fulham to be eliminated. When David Trezeguet scored two minutes into the second leg of our Round-of-16 meeting with Juventus to put us 4-1 down on aggregate, I told myself to just enjoy the experience as much as I could. Even after we turned that tie on its head, I maintained that state of mind in every single round. 
The only time I allowed myself to think, 'we could actually win this' was when I stepped off the coach in Hamburg ahead of our showdown with Atletico Madrid. I nearly made it to the end of the competition – which had spanned 11 months – having managed my expectations appropriately, but foolishly let myself get carried away at the last.
A coach from Stevenage Road to the Reeperbahn in Hamburg takes approximately 18 hours, I learned. Not the most comfortable when you're upwards of 6'2. Adrenaline, however, had been in plentiful supply to make it feel like anything but a chore.
My Dad greeted me – having hitched a last minute lift with a mate - as I stumbled off the bus with two numb legs and, after being dragged to several Beatles hotspots, we set about getting in the pre-match spirit.
The atmosphere was phenomenal, with Fulham and Atletico fans mixing harmoniously and posing for photographs with one another. One Atletico fan helped me out at the bar with a translation when the barmaid didn't have a clue what I was trying to order for Dad. Apparently shandies are somewhat uncommon in Germany…
What quickly became apparent after we'd immersed ourselves in the Hamburg Square where thousands of Fulham fans had congregated, was that Dad was a semi-celebrity amongst the travelling contingent. In true embarrassing dad style, though, this was apparently for taking 90 per cent of his clothes off in the away end at Juventus. "Hey, it's naked Jeremy!" 
One highlight of our time in the Square was the sudden appearance of an attractive young lady at a window a good 15 stories up. After some roguish chanting, the crowd was in hysterics about 10 minutes later when a chap leaned out of the same window in a Fulham shirt having somehow negotiated his way into the apartment.
As the crowd began to thin, we decided to make our way to the Nordbank Arena – a journey which was a lot more stressful than it should have been. After giving up on the metro due to the absence of any kind of train, we decided to walk in the general direction of the ground in the hope of hailing a taxi, something we just about managed to do whilst dodging traffic and competing with hundreds of fans who had the same idea. 
We made it to the ground in plenty of time, actually, which was just as well because the pre-match build-up really made Fulham's achievement sink in. Two huge sheets adorned the pitch, one with our crest and one with Atletico's, but both featuring the names of the teams who had featured in the competition that year. Dozens of sides, including some of Europe's elite. But they weren't here. Fulham were here. A 'Roy Hodgson For Prime Minister' banner caught the eye of the television cameras. I'd have voted for him then and I still would now.
Sadly, there was to be no fairytale end to what was the best season in the history of Fulham Football Club. Although, for a while it looked like there was hope. After Diego Forlan diverted home a wayward shot from a 21-year-old Sergio Aguero, Simon Davies became the first Welshman to score in a major European Final when he lashed home a stunning volley. 
The players gave it everything after that, but they were clearly exhausted. Hardly surprising when you consider this was their 63rd fixture of a gruelling campaign. 90 minutes done. Into extra-time. It's a period of minimal incident, and as we tick into the 116th minute it seems as though penalties are inevitable. We've got Mark Schwarzer in goal, a colossus when it comes to spot-kicks. They've got a relatively unknown teenager called David De Gea, so surely we're favourites from 12 yards…
A dangerous moment. Aguero gets the better of Aaron Hughes down our right – another example of fatigue setting in, as not many outsmarted Hughes. Aguero is able to whip the ball across to Forlan, who flicks it in the general direction of the goal. Then slow-motion kicks in. The ball takes a slight, but critical deflection off Brede Hangeland. I remember just thinking, "shit," as soon as it began its diversion. 
Needless to say, the coach journey home felt every minute of its 18 hours.

Thanks to Geoff for sharing his memories of an enthralling - if not altogether satisfying - evening at the Volksparkstadion in 2010. You can follow Geoff on Twitter.